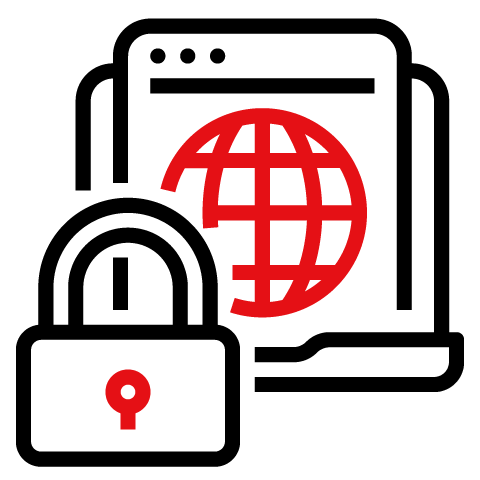 Exposure to the digital world brings value to the table with their end systems and services. With its value it also brings unknown risk to not only the organization but also their clients and customers.
Data breaches, negative brand impressions and ransom are some of the blows taken by any organization when they came across any sort of cyber threat. Organizations must acknowledge and act against them.
Proper plan is required to secure your organization from all potential threats. Threats are not just limited to affecting your organization but it can make a dent on organizations value and impression. For overall security intelligence, organizations need to monitor and analyze their environment and train their last line of defense which are their employees. 
At TIKAJ we monitor your external surface of attack, evaluate emerging risks and deliver timely, actionable intelligence that is specific to your organization. TIKAJ Cyber Security Service goes beyond the radius of your business to see threat actors working outside of your perimeter.
TIKAJ Cyber Security assists organizations to protect not only their customers and clients but also the organization itself. We help our clients through their journey to different phases to secure their environment.
With proper education and knowledge among the peoples around the organization, the response to act against any threat increases significantly. Proper training and assignments prepare to act against any type of catastrophic situation.
The best way to defend the organization against attacks is to train the arsenal to respond. 
Implementation of a successful security strategy for business is an imperturbable engagement and you can't ignore it, as data is a valuable asset it necessitates security.
Phishing has become a global issue in every sector because it is incredibly easy to pull off this form of attack. 
Phishing attacks continue to make headlines and target your employees and it can lead to some of the devastating effects on your organization. PhishGrid is a Phishing Simulator that delivers a complete solution to assess, train, and test employee vigilance across your enterprise.
Acting against any threat when the damage is does not have any impact. Detecting suspicious activities from external or internal environments can help to detect the threat on the first hand. Acting against threat beforehand protects the assets and people around the organization.
For securing the environment 3 things need to be secured
01. Organization Network
In any organization having a track record of the activities is important to secure big data and avoid any type of data leaks. A SIEM solution assists security professional insight and tracks records of their environment.
Dellect is a feature-rich SIEM solution that combines network analysis with log management to provide real-time monitoring. 
02. Emails
Email is an integral part of any organization's mode of communication and is an easy path to infiltrate for attackers. Email can be sent from trusted sources and may not be legitimate.  If end users can't identify the forged email from the real one, they are likely to act on it and might grant access to attackers.
DMARC+ is a DMARC solutions that focuses on monitoring, analyzing and mitigation the risk. With our user friendly software you can get an insight about the mails that are sent from your domain and help you identify potential issues. 
03. Brand 
Phishing is big business. Attacks have shown record growth in recent years, and a solid security awareness program is an integral part of any defense-in-depth strategy. We developed our proprietary script Orion which will be installed on your website to detect phishing. The script is obfuscated/minified to work in stealth mode.
Response against any detected threat is as important as detection. With active and prompt response the damage can be taken even if the threat was detected early. Response to threats and suspicious activities enhances the security around the organization's environment.
TIKAJ Cyber Security intelligence protects and gives end-to-end solutions that provide best probability to act against potential threats.
WIth our expertise and experience organizations from around the globe have secured their organizations environment. 
We at TIKAJ are committed to help organizations and individuals around the world to reduce risk and prepare them from future potential threats.
Learn how we can safeguard your business, preventing breaches, eradicating fraud, and defending your brand's integrity.